Bill Clinton Went to Jeffrey Epstein's Island With 2 'Young Girls', Virginia Giuffre Says
In recently unsealed court documents involving dead child sex trafficker Jeffrey Epstein and his alleged accomplice Ghislaine Maxwell, a woman named Virginia Giuffre, who publicly accused Epstein of sex trafficking, said that she once saw former Democratic President Bill Clinton on Epstein's island with "two young girls" from New York.
In the questioning by lawyer Jack Scarola, Guiffre was asked, "Do you have any recollection of Jeffrey Epstein's specifically telling you that 'Bill Clinton owes me favors?'"
"Yes, I do," Guiffre answered. "It was a laugh though. He would laugh it off. You know, I remember asking Jeffrey what's Bill Clinton doing here [on Epstein's island] kind of thing, and he laughed it off and said well he owes me favors."
"He never told me what favors they were," Guiffre continued. "I never knew. I didn't know if he was serious. It was just a joke… He told me a long time ago that everyone owes him favors. They're all in each other's pockets."
Shortly thereafter, Scarola asked her "Were sexual orgies a regular occurrence on the island at Jeffrey's house?" Guiffre responded, "Yes."
Scarola then asked if she was ever present with Epstein and Clinton on the island.
"Ghislane, Emmy [another girl who was allegedly a regular at Epstein's house], and there was 2 young girls that I could identify. I never really knew them well anyways. It was just 2 girls from New York," Guiffre answered, and said they were all staying in Epstein's house on the island.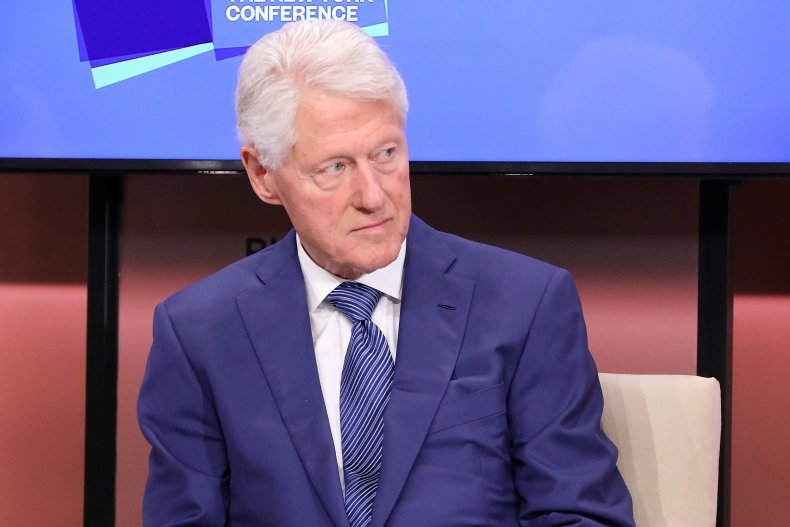 Epstein had multiple ties to Clinton, and Clinton—along with many other big name celebrities—was a repeated passenger on Epstein's private Boeing 727 plane which was nicknamed the "Lolita Express" due to the frequent delivery of apparently underage women to the island of Little Saint James, a reference to the 1955 Vladimir Nabokov novel about a 36-year-old literature professor who sexually engages a 12-year-old girl.
In 2002, Epstein hosted Clinton—as well as actors Kevin Spacey and Chris Tucker—on a 2002 tour of Africa associated with the Clinton Foundation. Epstein called Clinton "the world's greatest politician." In a 2002 New York magazine article in which President Donald Trump mentioned Epstein's predilection for girls "on the younger side," Clinton praised Epstein.
In 2015, the now-defunct pop-culture and news website Gawker released the flight logbooks for Epstein's Gulfstream and the Lolita Express 727. Clinton is listed as having taken at least 11 flights on the Lolita Express.
Extract from the unsealed documents. Download link below.
In one flight, Clinton allegedly flew with a softcore porn actress listed under "massages" in Epstein's address book. On all 11 flights, he rode with Maxwell and Epstein's former assistant Sarah Kellen. Kellen has been accused in court filings of recruiting young girls, acting as a pimp on Epstein's behalf.
On multiple flights, additional women who flew with Clinton are either listed by only their first name or simply as "female."
A 2019 statement from The Clinton Foundation claimed that Clinton "knows nothing about the terrible crimes Jeffrey Epstein pleaded guilty to," adding, "Clinton took a total of four trips on Jeffrey Epstein's airplane.
"Staff, supporters of the Foundation, and his Secret Service detail traveled on every trip," the statement continued. "He's not spoken to Epstein in well over a decade, and has never been to Little St. James Island, Epstein's ranch in New Mexico, or his residence in Florida."
Source: Newsweek
DOWNLOAD FULL RELEASED DOCUMENTS
Sometimes you just have to ask yourself: WHAT ARE THE CHANCES OF THAT ? – #WATCOT #WWG1WGA